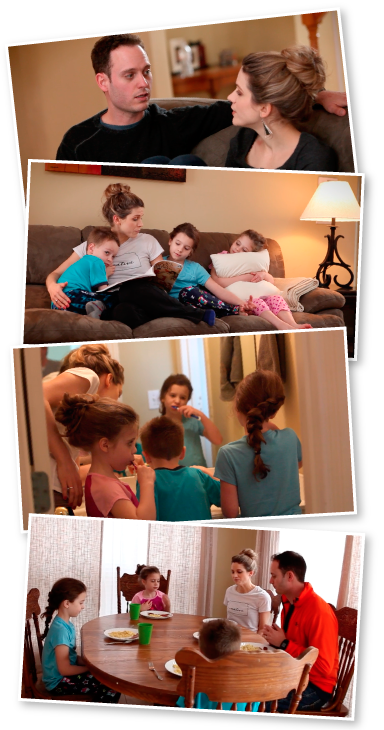 One of the most fun parts of filming this course was filming the daily behind-the-scenes footage of our own home and lives. If you've ever wanted to be a fly on the wall in our home, this course gives you the opportunity to do just that!
My whole family agreed to let camera crews come in and film us going about our daily lives and routines. And I love how the final product gives you a true peek into our ordinary, real life.
You'll see my husband, our three kids, and me working through our normal morning routines. You'll see me going about my morning routine, planning for the day, exercise, preparing breakfast in our kitchen (still in our pajamas!), starting off the day with our chores, goal-setting with my husband, reading together, and much more.
I hope that you will be encouraged by seeing that while it's not perfect in our household (or in anyone else's!), the routines we have set in place really do bless our family!

"As a busy mom of six little ones, ages 8 and under, I've often find myself frazzled and frustrated by the lack of things I'm able to get done. I knew I could be using my time more wisely, but I wasn't really sure where to start.
Well, now I am! Crystal has motivated my to start my mornings out right. I know completing and being consistent with the things I learn in this course will change my life and therefore the lives of my family as well. I'm so excited to be on this journey to make over my mornings! As a mom, I'm also thrilled that I can now set a good example to my children in this area so they can, like Crystal, start this habit young."

"I have always been an early bird, even after having children so when I started having issues with getting up early after a difficult first trimester with my third pregnancy I quickly started feeling out-of-whack. I was super grumpy and even worse; I was being a grumpy monster to my husband and kids because I felt so out of control of my day.
My efforts to get up early were increasing difficult despite this being a normal process for me months ago.
When I started Crystal's 14-day challenge, Make Over Your Mornings I didn't have very high hopes that I would achieve the goal of getting up before my family and starting my day off right. However, Crystal is amazing and her motivation is what I needed to get myself in order to finally start having the mornings that I need. This in turns leaves me to be a happier mama and a much happier wife.
I'm so thankful to have my house feeling like a home again instead of a war zone! If you're struggling with the grumpy mama bear status, I encourage you to take Makeover Your Mornings so you can find your inner peace again!"